Natural finish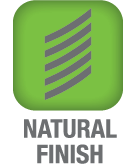 Natural Finish
Walk down a rod rack at your local fly shop and you'll notice something different about Scott rods. Like everything we do, the Scott Natural Finish is all about making your rod lighter, more durable, and better performing.

Most other rods on the shelf are run through a belt sander, tearing away the outside power fibers of the blank and introducing variance. Inadvertent flatspotting during the sanding process will weaken a blank, and blanks are designed with a margin of error to accommodate for oversanding. After the blank is sanded, a glossy paint is applied to add shelf appeal.

Natural finish blanks aren't subjected to the rip through the sanding belt, nor are they covered with heavy paint to add pop in your fly shop. We're firm believers in the natural beauty of graphite. A natural finish blank is built to exacting tolerances. Scott's advanced resin systems permeate the blank, leaving a durable finish that will stand up to years of abuse.