Mil-spec III
We'd never claim to "defy"
the laws of physics...actually,
we're proud to embrace them.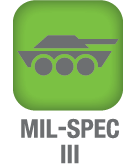 Mil-Spec III

Another first, brought to you by Scott.

Most reelseats are made with a glossy, thin, and easily marred type 2 anodize. Scratches in type 2 anodize expose the aluminum underneath, leading to worn finishes and potential for corrosion.

Our Mil-Spec III anodize penetrates the surface of the aluminum, creating the hardest, most durable, and most corrosion resistant finish available. Mil-Spec III prevents galvanic reactions with dissimilar metals and is resistant to temperatures above 900 degrees fahrenheit.